Things to do in Downtown Atlanta
Things to do in Downtown Atlanta
Atlanta, Georgia has many different areas to explore within the city limits. These areas are also referred to as neighborhoods. One of these neighborhoods is downtown Atlanta. There are many things to do in downtown Atlanta area alone.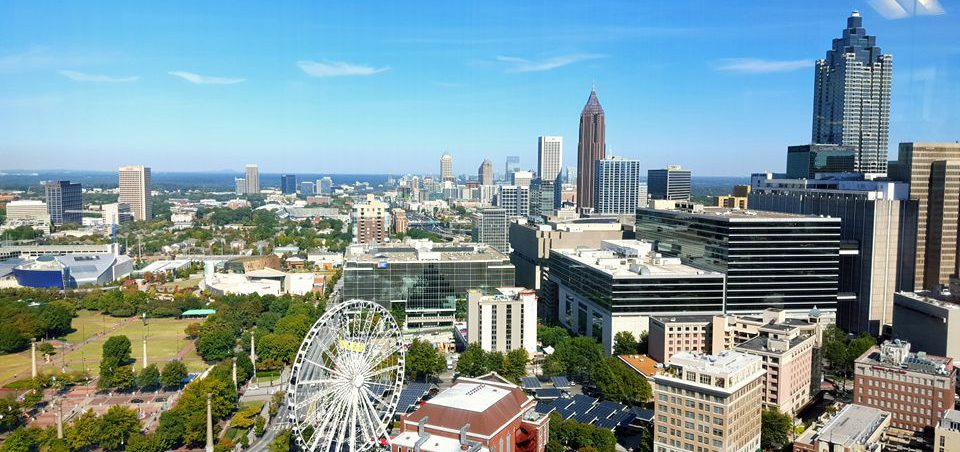 Downtown Atlanta the central business district of Atlanta, Georgia and measures approximately four square miles. The downtown area has many of the city's major attractions.
You have about TEN main attractions nestled together and within a walkable distance of each other. The streets and parks are lined with wide sidewalks to accommodate all of the pedestrians, from the local business workers, college students and the community to the you, the tourist traveler.
---
Things to do in Downtown Atlanta
With downtown Atlanta being the largest business district, this area is designed to be a main tourist destination for travelers and business conventions. The fact that Georgia State College and many businesses are established in downtown provide for many attractions, retail and food options that appeal to the locals and the travelers alike. This makes downtown Atlanta a great area to stay, explore and eat.
Below is a list of some of the main attractions this great city has to offer!
---
Stroll Through Centennial Park
One of the simplest and free things to do in downtown Atlanta is to take a walk through Centennial Park. The park's official name is Centennial Olympic Park but most locals refer it to as Centennial Park.
Centennial Olympic Park was built for 1996 Summer Olympics games that were hosted in Atlanta, Georgia. The park is public and spans across 21 acres.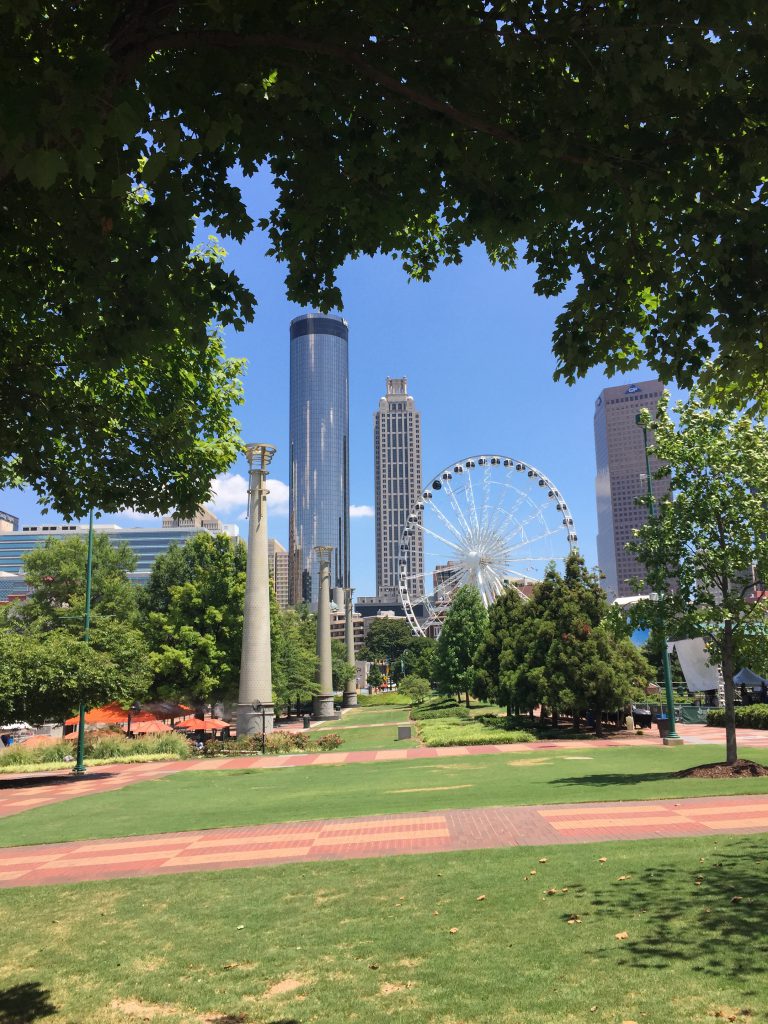 Fountain of Rings
The park features things to do such as the Fountain of Rings which puts on a water and light show synchronized with music. The kids LOVE playing in the fountain and in the summer time, you'll find school busses of kids in bathing suits and wet clothes having the best time of their lives! The fountain shows happen every day, 365 days of the year, four times daily at 12:30 pm, 3:30 pm, 6:30 p.m, and 9:30 pm.
Monument, Sculptures & Points of Interests
The park also features other things to do and see such taking an audio tour throughout the park to learn about the history of the park and Atlanta. Taking in all of the the different monuments, sculptures and points of interest spread throughout the 21 acres. Admiring all of the Olympic bricks that create the walkways throughout the park, sporting names of people who donated to help fund the build of the park. Eating at Googie Burger, the visually iconic walk up burger joint. And playing at the Children's Garden and Playground.
Vistor Center
Stop by the Centennial Olympic Park Visitor Center for brochures and printed travel maps. The park's visitor center is located in the same building as Googie Burger, on the other side.
ADDRESS 265 Park Ave W NW, Atlanta, GA 30313
---
Tour and Eat at the CNN Center
Why go to one restaurant to eat when you can go to a place that has many restaurants to choose from.
The CNN Center is the world headquarters of CNN, the largest cable news network media company in the world. I mean, who doesn't know of CNN? Located next to Centennial Olympic Park, the CNN Center contains main newsrooms and studios for CNN's news channels.
Tours
You can experience a behind the scenes look with a 50 minute guided walking tour around the live broadcasting areas that viewers see from all of the world. Tours run every 20 minutes, every day (Monday – Sunday) from 9 am – 5 pm. Ticket prices range from $12 – $15, depending on your age.
Food Court
Along with offering tours of these news media rooms, the CNN Center has a large food court area that features 16 restaurants and plenty of seating with tables and chairs. Most restaurants offer fast food quick to eat options so you can sit in the food court, but there are a few full-service restaurants that offer in restaurant seating and service. Regardless of what food you fancy, there are plenty of options for you and your entire family to eat different things as desired.
News
Also in the food court area, there is a massively large TV screen projecting the CNN news channel. So if tours and eating were not enough entertainment, you can also catch up on the news while you eat. The CNN Center itself is open to visitors Monday – Saturday, from 5:30 am – 8 pm and Sunday, from 8 am – 8 pm.
ADDRESS 190 Marietta St NW, Atlanta, GA 30303
---
Spend the day at Pemberton Place
Pemberton Place is a 5 acre park complex that contains three of downtown Atlanta's main tourist attractions. It is named after John Pemberton, who invented Coca-Cola, and is located right next to Centennial Park which makes it easy to walk to and access.
The three main things to do in Pemberton Place are to visit these attractions: Georgia Aquarium, Coca-Cola Museum and Civil Rights Museum.
Georgia Aquarium
The Georgia Aquarium is the world's largest aquarium with more than 10 million gallons of water and more aquatic life than any other aquarium. The goal of this aquarium is to inspire awareness and preservation of our ocean and aquatic animals worldwide. The Georgia Aquarium offers many interactive exhibits and galleries, along with programs and activities for the whole family. General admission ticket prices range from $28 – $32, with options to spend more money for special tours and additional activities such as swimming with the sharks!
World of Coca-Cola
The World of Coca-Cola is a museum about the worldly popular drink, Coke, and the history behind the brand and the company. The museum features exhibits on the secret formula of Coca-Cola, A Coca-Cola Theater, a Coca-Cola Portrait Wall, a 4D movie about discovering the secret formula and a Coca-Cola tasting area that features 60 different flavors from around the world.  General admission ticket prices range from $13 – $17, with options to pay more for a VIP Guided Tour.
Center for Civil and Human Rights
The Center for Civil and Human Rights is a civil rights museum focused on the history and education of the American Civil Rights Movement and Global Human Rights. The Civil Rights Movement gallery exhibit represents the fight for equality in the 1950s and 1960s. The Global Human Rights gallery exhibit focuses on the importance of human rights and how they affect the lives of every person. General admission ticket prices range from $14.25 – $18.25 per person, depending on your age.
ADDRESS 126 Ivan Allen Jr Blvd NW, Atlanta, GA 30308
---
Get Your Sports On
Atlanta is a big city and has professional sports teams. If you are a NFL, NBA or MSL fan, then keep reading.
Downtown Atlanta is home for three of our major league sports teams: Atlanta Falcons NFL team, Atlanta Hawks NBA team and Atlanta United Soccer MLS team. The games for these teams are located behind the CNN Center.
Atlanta Falcons Football
The Atlanta Falcons are our National Football League (NFL) team. The games for Falcons football are held in the new Mercedes-Benz Stadium with an extractable roof. The stadium is located behind the Phillips Arena and is within walking distance from the CNN Center, Centennial Park and Pemberton Place.
ADDRESS Mercedes-Benz Stadium: 1414 Andrew Young International Blvd NW, Atlanta, GA 30313
Atlanta Hawks Basketball 
The Atlanta Hawks are our Major Basketball Association (NBA) team. The games for Hawks basketball are held in the Phillips Arena. The arena is attached to the CNN Center so it's easy to grab food and beer from the CNN center before a basketball game.
ADDRESS Phillips Arena, 1 Philips Dr, Atlanta, GA 30303
Atlanta United Soccer
The Atlanta United FC are our our Major League Soccer (MLS) team. The games for the United soccer are also held in the Mercedes-Benz Stadium.
College Football Museum
The College Football Hall of Fame is a museum that is all about college football. With three floors of galleries, interactive exhibits, a wall of 750 football helmets and a 47-yard football field, there's plenty of football things to see, learn and do here. The College Football Museum is located within walking distance of the CNN Center and Centennial Park. General admission ticket prices range from $17.99 – $21.99.
ADDRESS 250 Marietta St NW, Atlanta, GA 30313
---
Admire the Atlanta Skyline
If all of the above things to do are not enough, another way to enjoy is Atlanta is to see the skyline and the city from higher views. Choose to view the Atlanta Skyline from a ferris wheel or nearby high-rises!
Sky View
SkyView Atlanta is a ferris wheel located on the edge of Centennial Olympic Park. The 200-foot ferris wheel features climate-controlled gondolas with a twenty story arial view of the city overlooking Centennial Park, downtown Atlanta and beyond. The SkyView Ferris Wheel was originally located in Paris and Pensacola, Florida before it was moved to downtown Atlanta, Georgia. General admission ticket prices range from $9.26 – $13.89, with VIP gondolas and packages available.
ADDRESS 168 Luckie St NW, Atlanta, GA 30303
Sky Lounge
The SkyLounge is a rooftop bar located at the top of the Glenn Hotel. Experience the Atlanta Skyline in a relaxed, upscale bar and lounge with a beer or cocktail. The Glenn Hotel is located on the edge of Centennial Park and near the CNN Center. The Sky Lounge doesn't open until 6 pm so you have plenty of time to enjoy these other attractions during the day before you get your drink and views on!
ADDRESS 110 Marietta St NW, Atlanta, GA 30303
Sun Dial
The Sun Dial is a restaurant at the top of The Westin Hotel in Peachtree Plaza. To get to the restaurant, you will travel up 71 floors in the elevator to the top of the hotel. If you have never been to The Westin Hotel or Sun Dial, then you wouldn't know that whole building is round. This means that the Sun Dial takes up three entire floors which provides you with a 360 view of Atlanta. The restaurant takes up a level. The bar takes up another level above the restaurant. And there is even an observatory level called The View which offers four complimentary telescopes. The View is open everyday from 10:00 a.m. until close. Prices are $4 – $8 for entering the observatory view level. The bar offers great $$ food and drink options and the restaurant is on the higher end.
ADDRESS 210 Peachtree Street NE Atlanta, GA 30303
---
How to Get to Downtown Atlanta
There are many ways to get to downtown Atlanta.
If you are traveling by car, you will access downtown from major Atlanta Interstates  I-85 or I-20.
If you are traveling by plane to the Atlanta Airport, you can get to downtown by rental car, Uber, Lyft or a MARTA train, Atlanta's public transportation system.
---
How to Get Around
Walking
All of the attractions mentioned here are within walking distance. As mentioned earlier, the downtown area is very pedestrian friendly with wide sidewalks and signaled cross walks. Walking is a great way to take in the culture of the city, look at all of the visual displays, admire the people, appreciate the art, this city's vibe… Atlanta's greatness!
MARTA
Atlanta's public transit system, MARTA, is easily accessible throughout downtown which allows you to take the trains and buses to get around. MARTA stands for Metropolitan Atlanta Rapid Transit Authority. One way trip fares cost $2.50 plus $1 for a breeze ticket or $2 for a reusable breeze card. You can transfer from train to bus or bus to train up to four times within a three-hour period for a one-way trip.
Streetcar
The Atlanta Streetcar is a public transportation offering additional transit options throughout the downtown Atlanta area, called the Downtown Loop. The streetcar line covers 2.7 miles with 12 different stops near all of these attractions mentioned here and to even more not listed yet. The benefit of using the Atlanta Streetcar option is that it can reduce the amount of walking to other places throughout downtown Atlanta. You don't need the streetcar to access all of these attractions listed in this article but there is more to downtown Atlanta than what is covered here. The attractions here are centrally located in one area and easy to access by walking, because they are all in walking distance of each other.
You will have a separate fare from MARTA if you use the streetcar line. You can purchase rides from vending machines throughout Centennial Park or you can use your phone with the Atlanta Streetcar app. It runs every 10 to 15 minutes and costs $1 for adults. Up to two kids are free.
---
Downtown Atlanta Area Maps
Use the interactive Google map and the additional maps below to plan your visit.
---
Helpful Area Links
To experience the audio tour of Centennial Olympic Park, click here.
To experience Atlanta from a video, click here.
---
Nearby Atlanta Areas
Midtown Atlanta
Old Fourth Ward